2020 VIP Mercedes Sprinter
Published on Monday 05 April 2021
2020 VIP Mercedes Sprinter

Perfect for large groups or VIPs
Switzerland is a perfect holiday destination for families and groups of friends alike. From picturesque mountainous villages to landmark medieval cities, you will be sure to discover a stunning variety of postcard-like landscapes wherever you go.
To cater to large groups or VIPs who wish to visit this remarkable country in comfort & style, GMC Limousines has purchased the ideal vehicle : the 2020 Mercedes Sprinter.
This top-of-the-range luxury minibus can accommodate 16 passengers (or 13 passengers with a rear table installation) and as many large suitcases, courtesy of the vehicle's extended boot area. The vehicle is completely neutral (no interior or exterior prints) meaning drivers can announce themselves as representatives of the company of your choice provided we are notified in advance.
Included Amenities
Our VIP Sprinter comes fully-equipped with white leather seats, air suspension, extra air-conditioning, a fridge, 12V sockets on each row, 2 folding TVs, a Playstation, Netflix, an ambient lighting system, microphone, a high-quality audio system, an ultra modern design and more. We also install the below amenities available for all passengers:
Evian water bottles and Oshibori lingettes
Swiss Wifi (& European Wifi depending on the destination)
Facemasks & hydroalcoholic gels
If this is requested in advance, we can also place the food & drinks of your choice in the vehicle to be ready for you or your clients. Many of our customers have appreciated these additional touches, especially for long-distance trips.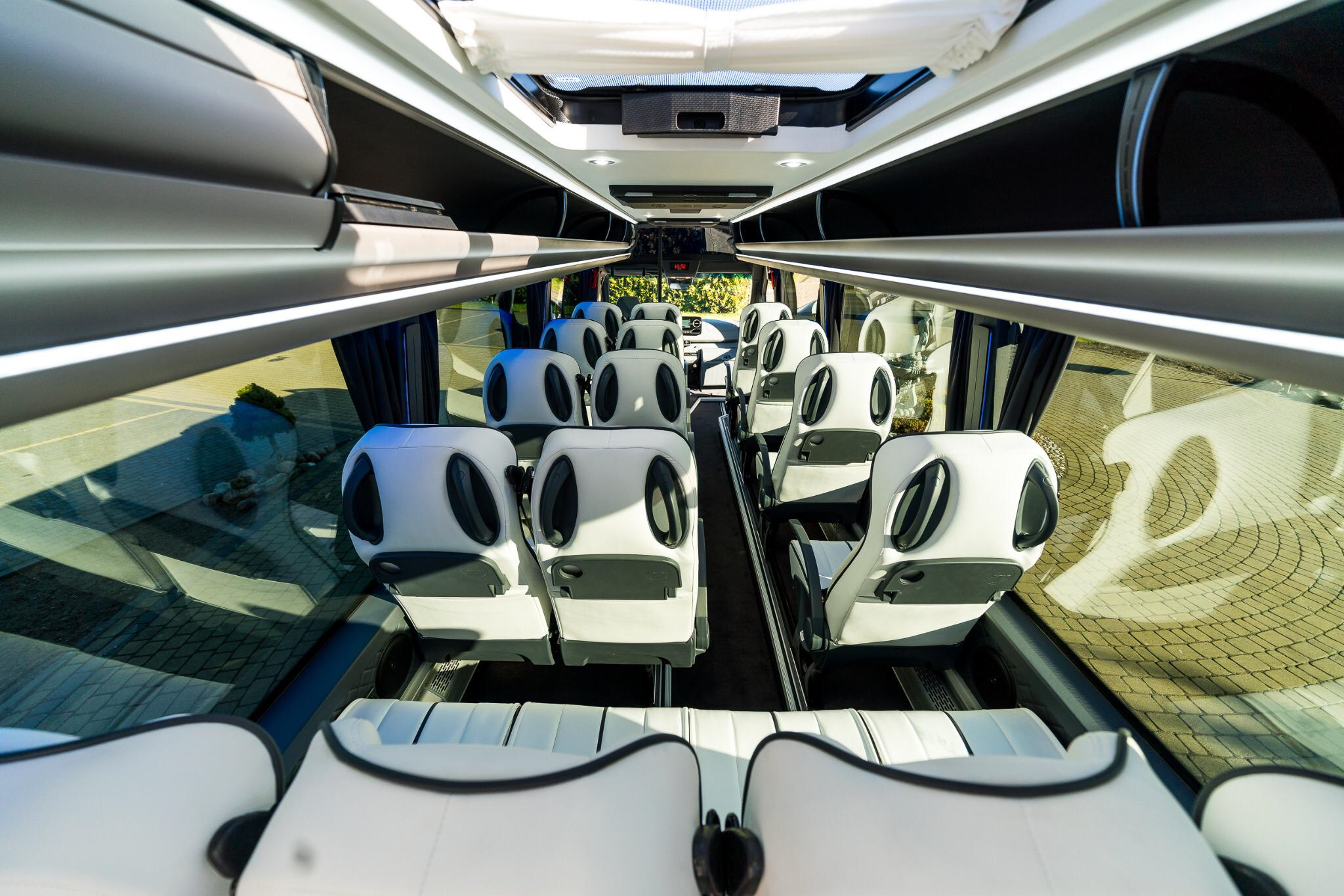 Limousine Standards are Applied
We decided to purchase this luxury minibus to be less reliant on minibus companies, the provided quality of which was sometimes found to be lacking. You will now be able to benefit from the combination of a professional English-speaking limousine driver alongside the standards of a luxury limousine service.
Organizing high-end trips for groups of people can sometimes be difficult which is why the following standards (that we apply for every limousine service) are equally covered to ensure a stress-free journey:
Drivers monitor arrival & departure flights to arrive when you land/depart
Passengers are greeted with a customizable signboard
Driver's contact details are sent in advance
Professional English-speaking drivers (other languages available upon request)
Feeling Uninspired ? Let us help.
Are you tasked with organizing a luxury trip for your clients or groups of friends in the Geneva area (or in Switzerland as a whole) but are having trouble finding suitable options? At GMC Limousines, our bilingual dispatch team can help you.
Based on your preferences, timeframe, budget & location, we can suggest popular and feasible itineraries. Alternatively, feel free to send us the schedule you have come up with and we can evaluate its practicability.
Our chauffeurs are all locally sourced so if clients spontaneously want to deviate from their schedule to eat somewhere in the vicinity, for example, our drivers can suggest the best options in the vicinity.
How to book ?
For any queries about booking a chauffeured Sprinter service, please do not hesitate to contact us either over the phone or by mail. Alternatively, make the most of our online simulator to compute the exact rates of your requested service. You can also book your trip directly online and we are immediately notified and will reach back to you with a confirmation.
Back to the news »