Annecy is a city in eastern France with 126,924 inhabitants and is the capital of the Haute-Savoie department in the Auvergne-Rhône-Alpes region.
In 2012 Annecy was named as the Alpine Town of the Year.
At the northern tip of a beautiful lake and 40 km south of the Swiss city of Geneva, Annecy has the Thiou River flowing through its old town as a natural outflow of the lake, which then flows into the Fier after only 3.5 kilometres. The Canal du Vassé, once built to supply the defense trenches with lake water, now runs partly underground.
The municipality is associated with the Massif des Bauges Regional Nature Park as an access point.
Annecy has metal, boat supply, textile, leather, food and wood industries. The town is a climatic health resort & tourism is an important economic factor.
What to see in Annecy
Annecy Castle
The 800 year old castle continues its legacy with 4 feet thick walls. It is situated by Annecy lake and offers picturesque views from inside and outside.
Events
Festival of italian Cinema:
Initiative from the Cultural Center of Annecy and the Italian Cultural Institute of Grenoble, it takes place every year at the end of September to the beginning of October. Every year, they showcase recently released italian movies.
Noctibules:
Street art festival taking place every year in July. It consists of 4 evenings, where magicians, poets, theatre artists and comedians take part to entertain the crowd.
Fête du lac:
The Fête du lac is a lake festival with music and fireworks. 1 hour of lights, water games and fireworks synchronized with music is a visual treat to eyes.
Food Culture
In the pedestrian zone, one restaurant follows another. In the summer months, people often dine outside under the arcades. Some restaurants have a balcony on the upper floor. Traditionally, one often finds the typical Savoyard cuisine, especially with regional cheese products such as fondue, raclette and tartiflette - best of all in the restaurants Le Fréti and L' Étage.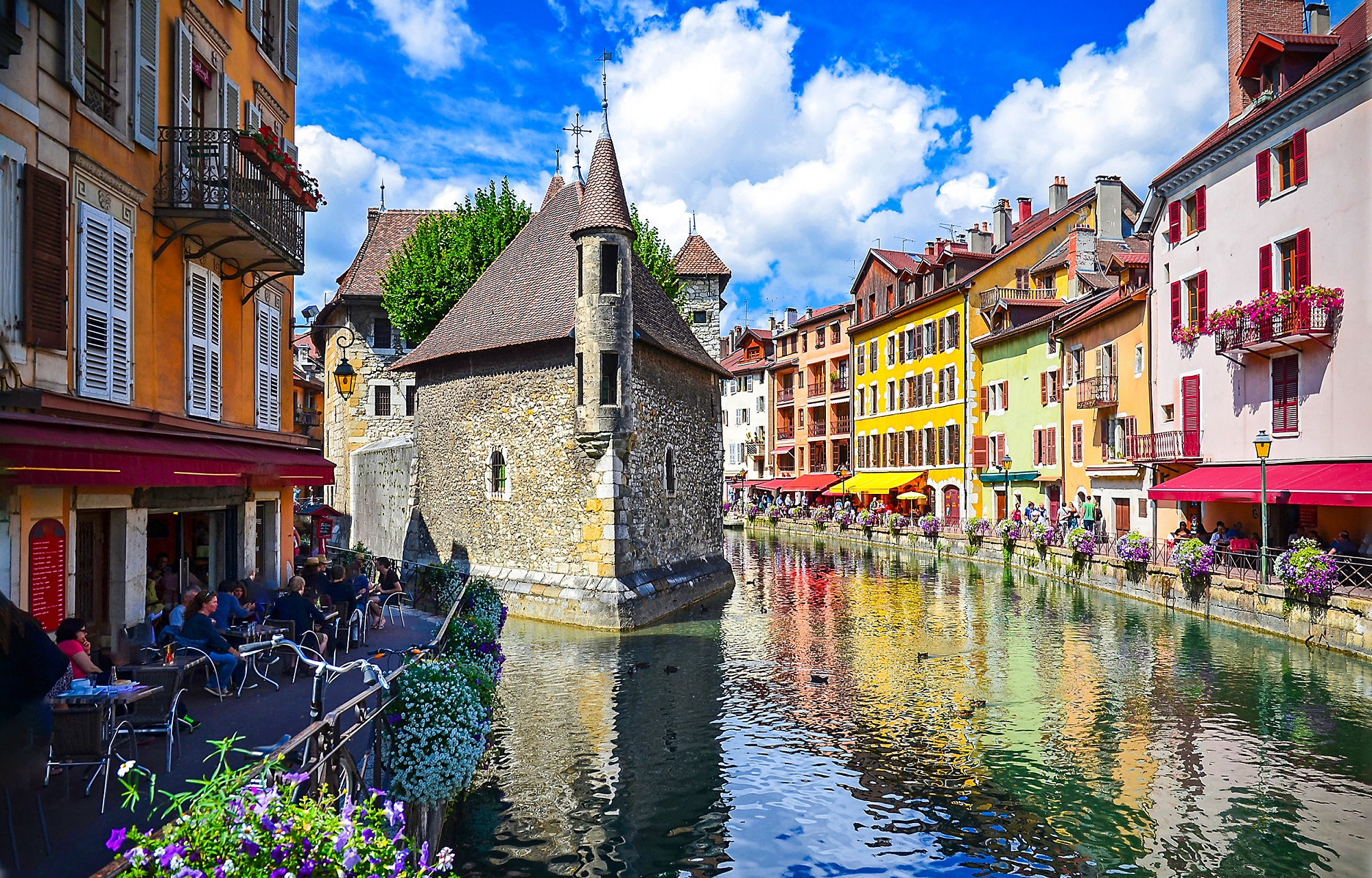 How to reach Annecy
Annecy is 42 km from Geneva airport and it takes around 40 minutes to reach by car. We have a long range of luxury sedans, minivans, sprinters and minibuses. We have vehicles available in standard, luxury and VIP categories. You can easily book a transfer to Annecy using our online booking system. You will receive booking confirmation and we will take care of your transfer.
Luxurious hotels in Annecy
Le Palace De Menthon ★★★★★ www.palacedementhon.com
Black Bass Hotel Annecy ★★★★★ www.blackbasshotel-annecy.com
Le Clos Des Sens ★★★★★ www.closdessens.com
Geneva ⇒ Annecy, France : 42km / 00h'.41min
All our destinations